Feliks Zemdegs

Feliks Zemdegs during the 2013 World Championships

Alias(es):

faz

Country:

Australia

Born:

20 December 1995 (age 21)

Years active:

2009-present

WCA ID:

2009ZEMD01
Feliks Zemdegs is an Australian speedcuber from Melbourne, Australia. He is the former two-time world champion and currently holds 10 world records including both single and average times for 3x3, 5x5, 6x6, and 7x7. He is typically considered as the most successful competitive speedcuber in history, as he has held 110 world records, and numerous Oceania records.
Feliks is a color-neutral CFOP solver, although he does know other methods such as Roux and Petrus. He knows numerous subsets of CFOP such as ZBLL, COLL, Winter Variation, etc. For 2x2, he uses CLL. For 4x4, he uses Yau, and bigger cubes, he uses reduction and free-slice. He uses his left hand for OH.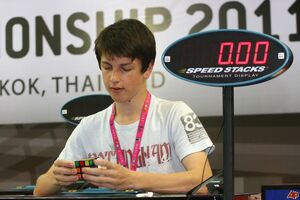 Achievements
Edit
Won the World Championships twice consecutively in 2013 and 2015
First person to achieve a sub-7 or sub-6 second single for 3x3.
First person to achieve a sub-10, sub-9, sub-8, sub-7, and sub-6 second average for 3x3.
First person to achieve a sub-1 minute single or average for 5x5.
First person to achieve a sub-50 and sub-40 single for 5x5.
First person to achieve a sub-2 minute single solve for 6x6.
First person to achieve a sub-1 minute 30 second single and average solve for 6x6.
First person to achieve a sub-4 minute 4x4 BLD solve.
First and only person to achieve a sub-8 or sub-7 second single for OH.
World Records
Edit
Single
3x3 OH: 6.88
4x4: 19.36
5x5: 38.52
6x6: 1:20.03
7x7: 2:06.73
Average
3x3: 5.80
3x3 OH: 10.21
5x5: 45.64
6x6: 1:27.79
7x7: 2:14.04
Feliks has competed in 88 rounds of 3x3, and there were only three instances where he did not place 1st: Johannesburg 2014 (1st round, 2nd place), US Nationals 2014 (finals, 2nd place), and World Championship 2011 (finals, 3rd place)

His results in 4x4 and 5x5 are similar to this as there was only one instance each where he did not finish first (finished 2nd place).

Feliks is notably classified as "The world's most fastest rubik's cube solver".
External Resources
Edit
Feliks' Former 3x3 WR Single 5.66s
Ad blocker interference detected!
Wikia is a free-to-use site that makes money from advertising. We have a modified experience for viewers using ad blockers

Wikia is not accessible if you've made further modifications. Remove the custom ad blocker rule(s) and the page will load as expected.