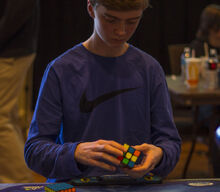 Sean Belke is an American speedcuber and YouTuber from the Washington, D.C. area. He is most commonly known under his YouTube name "UberCuber". Sean specializes in 3x3 and skewb.
Sean is a white/yellow cross CFOP solver.
Achievements
Edit
Sean is the previous North American record holder for skewb average with an official average of 3.45 seconds.
Sean is one of the 50 fastest cubers in North America.
Ad blocker interference detected!
Wikia is a free-to-use site that makes money from advertising. We have a modified experience for viewers using ad blockers

Wikia is not accessible if you've made further modifications. Remove the custom ad blocker rule(s) and the page will load as expected.